Click on Cover for Amazon Purchase Link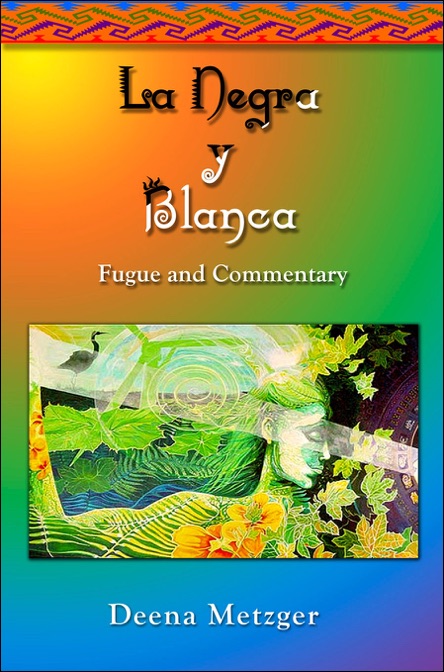 La Negra y Blanca: Fugue and Commentary
a novel by Deena Metzger
US $18.95
ISBN-13: 978-0-9720718-4-0
La Negra y Blanca is the crowning achievement of Deena Metzger's lifetime as a novelist, poet, and playwright. On the surface, it is a meditation on memory as the narrator pieces together the bright flashes of images of her life recalled, weaving them together with the intention of creating a healing matrix that reflects a life lived in search of meaning. On a deeper level, it weaves in the history and tragedy of the Conquest's ongoing political and environmental effects on Latin America through the narrator's relationship with Victor Perera, a Guatemalan-American writer and journalist who documented the destruction of the native Lacandon tribe of Guatemala by imperialistic forces. We become acquainted with La Negra, a mysterious woman who is pregnant, but who will not give birth to her child until the world is safe enough for its continued existence, and who is the centerpiece character of a natural world struggling to survive and maintain its integrity in the midst of industrialization and the elimination of the sacred forests. Metzger has created a complex novel that weaves the personal, political, global and spiritual threads of her life into a tapestry of beauty, sorrow, transcendence, and ultimately, the assurance of a world renewed by the unwavering examination of all of its component parts to create a path into a future that promises reverence for all life.
WINNER

2012 Oakland PEN Award

"Deena Metzger has used her skills as poet to understand the end of Victor Perera's life. Does the universe and time work in such a way that our lives encircle one another's forever? As we read La Negra y Blanca, the contemporary and the mythic, our selves and our ancestors, miraculously join."
— Maxine Hong Kingston, author of
I Love a Broad Margin To My Life
This beautiful book is not so much a novel as it is an exquisite tapestry, threads woven of word and spirit, blood and bone and heart. It is a complex weaving of fact and fiction; 'realism" and the more-than-real, of the deep sorrow and rage of a violated land a violated peoples; and most of all, love. This book, this tapestry, will help us unweave the threads of this culture's ensnaring and near-total destructiveness, and will help us wend our way back into the fabric of all life.
— Derrick Jensen, author of A Language Older Than Words
"An extraordinarily original, complex and beautiful novel that weaves the work of a witness into a haunting narrative founded on a stunning insight: without the capacity to imagine what is culturally alien to us, we cannot document and comprehend what Victor Perera calls "the unfinished Conquest." Perera, the Guatemalan journalist and essayist, is the narrator's central dialogue partner in her journey through the hell of recent Latin American history: he was her friend in real life and becomes her posthumous guide in the realm of the spirit that the novel substantiates. Deena Metzger invents a language of intimacy and splendor in which the quivering life of resistance to the ongoing Conquest is experienced as the beauty and hope that remain vital amidst the debris and mass graves of history. La Negra y Blanca is the crowning achievement of a life devoted to storytelling, tikkun olam."
— Marc Kaminsky, author of The Road from Hiroshima and Shadow Traffic
Available in Paperback or eBook edition.