Click on Cover for Amazon Purchase Link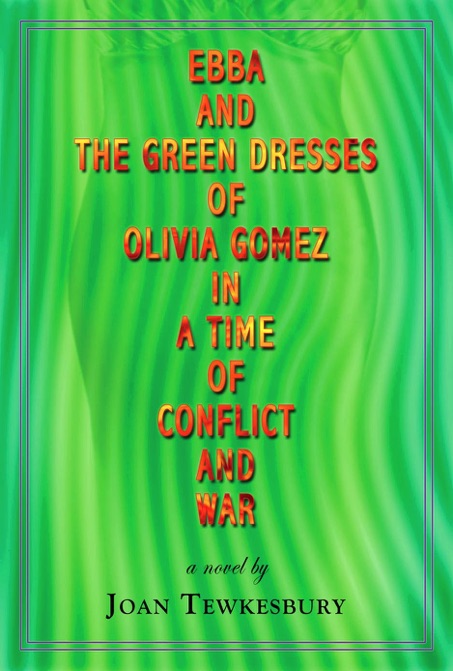 Ebba and the Green Dresses of Olivia Gomez in a Time of Conflict and War
a novel by Joan Tewkesbury
US $17.95
ISBN-13: 978-0-97207188-8
Ebba and the Green Dresses of Olivia Gomez in a Time of Conflict and War is a dramatic tale of the coming of age of Ebba in a fictional town somewhere south of the US border where children are kidnapped and people are "disappeared" in the middle of the night. Ebba, a young girl who is far older than her years, is at the center of a wild and outrageous intrigue that begins with a vengeful neighbor and slowly unravels a rat's nest of corruption. Yet this is a story of love, revenge and triumph amidst the tragedies, tortures and abuse of power that are ubiquitous in the political dictatorships of our time. Joan Tewkesbury, the screenwriter who redefined cinema with her masterpiece "Nashville" has created a brilliant and compelling novel whose deeply crafted characters and their stories are guaranteed to delight, entrance, horrify, and captivate the reader.
What a fierce, bawdy, wonderfully inventive novel! Somewhere in time in South America the enchanting Ebba and her beleaguered village are upended by the power and greed of a ridiculous tyrant. Spun as a fable in a style both grotesque and lyrical, Tewkesbury clearly stands with the kind, the decent, the daring. She does so with so much humor and charm that we the readers are swept breathlessly along and feel triumphant at the astonishing outcome. Ebba and the Green Dresses is a captivating tale of innocence struggling against evil, a far too familiar story in this sorry world, but told here with fearlessness and defiant hope. A delighting book.
— Kathryn Walker, author of A Stopover in Venice
Ebba.... is an unforgettable novel and a brilliant achievement. To read Ebba and the Green Dresses of Olivia Gomez in a Time of Conflict and War is an overwhelming experience. Joan Tewkesbury has crafted a novel of luminous originality, creativity and resonance. It is driven by a unique narrative freedom and by characters that are immensely touching. They will stay with the reader for a long, long time. A rare sense of wonder permeates this novel. Its picaresque tone, unusual sense of humor and capacity to rebound will surprise you on every page. Cervantes and Marquéz may come to mind, but Joan Tewkesbury novel's operates on its own terms.
— Walter Salles, award winning director, "On the Road", "Central Station," "The Motorcycle Diaries" and "Linha de Passe"